---
The talented Norwegian pianist Leif Ove Andsnes is returning to the LSO for his second Artist Portrait, in which he is giving performances throughout May and June, featuring Mozart's Piano Concerto No 20 and Schumann's Piano Concerto. We found out more about his busy schedule, his family and how important he feels exposure to music is. 
Muzak inspired him to play Beethoven 
Leif Ove Andsnes had been considering devoting some time to playing Beethoven but, funnily enough, what convinced him was a hotel in São Paulo that played Beethoven's First and Second piano concertos in the lift. 'I thought after a day it would make me mad,' he told The Arts Desk, 'but actually the opposite happened. Hearing 40 seconds of the music every time I got in the lift made me aware of all these episodes of these pieces.' The fateful coincidence caused Andsnes to embark on 'The Beethoven Journey'; a four year tour of the world with the Mahler Chamber Orchestra, during which he visited 108 cities, performing all five of Beethoven's piano concertos and making recordings along the way.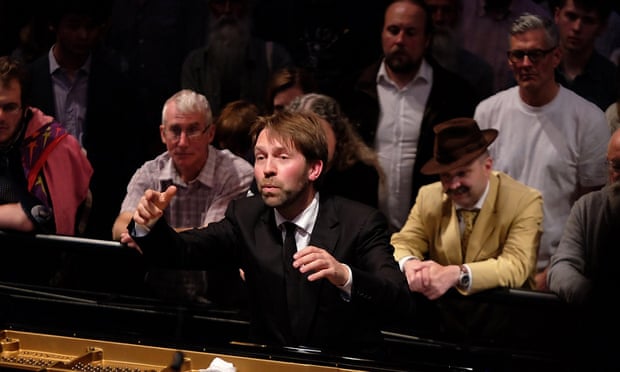 Leif Ove Andsnes performing Beethoven at the BBC Proms
He puts family life above his career
Travelling is obviously a compulsory feature of Andsnes's career, but since having three children he has cut down on time spent away from Norway, from 250 days of travelling a year to less than half the year. At first, when he was in his twenties, it took a while for Andsnes to adjust to this jet setting lifestyle, but more recently he told the San Francisco Classical Post; 'as long as I have my music, I can feel at home even in new places.' Nowadays he finds himself practicing late at night when his family are asleep – 'but that's how it has to be!' he said. 
He played Grieg on a mountain top
Leif Ove Andsnes performing Grieg on a mountain
Andsnes is deeply passionate about the piano works of Edvard Grieg and has always felt a connection with him, what with being a fellow Norwegian. His recordings of Grieg have been especially celebrated, particularly his 2004 recording of Grieg's Piano Concerto, which won a Gramophone Award and was named 'Best CD of the Year' by the New York Times.  As part of Andsnes' documentary DVD the pianist decided to perform Grieg's Ballade in G minor Op 24 on the top of a snowy mountain with his grand piano perched on the edge of the rocks, creating a powerful visual effect.
He founded the 'Feel the Music' Project
After spending a lot of time thinking about Beethoven's music and how it must have been affected by his deafness, Andsnes was inspired to create the Feel the Music scheme to allow children whose hearing is impaired to experience music in cities around the world. 'Of course we listen with our ears,' he told the Huffington Post, 'but we also perceive music through vibration and through our body. That's what we see working with the kids.'
Andsnes values musical education
Both of Leif Ove Andsnes's parents were music teachers but it was him who made the decision that he would start playing the piano aged five. For Andsnes, it is a genuine concern that schools aren't placing enough emphasis on music and the arts anymore. In relation to the modern day, he told The Arts Desk that 'everything is measured by tests and what you know about things.' He is not so worried about the future of classical music as a whole, feeling that, while the classical music industry itself may be suffering from music streaming, more people than ever are choosing to attend classical concerts. 'I played in Seoul and it's the only place I've ever felt like Elvis,' he said. While he believes that the classical generation has always consisted of the older generation, he said that 'it is becoming increasingly difficult to prepare the young generation emotionally for this step into musical life.' Music is becoming too much part of the background, when actually, 'the meaningful connection with music is something that has to be learned,' he told Peter Schlueer of Klassik Heute magazine.
---
LSO Artist Portrait: Leif Ove Andsnes
Sun 8 May 2016 7pm, Barbican
Leif Ove Andsnes begins his Artist Portrait with a performance of the first concerto he ever played with an Orchestra, Mozart's Piano Concerto No 20, paired with the symphony that introduced Bruckner as a powerful new compositional voice.
MOZART Piano Concerto No 20
BRUCKNER Symphony No 3
Daniel Harding conductor
Leif Ove Andsnes piano
Thu 12 May 7.30pm, Barbican
The series continues with one of the iconic works from the piano repertoire: Schumann's Piano Concerto, which comes before a performance of Beethoven's Symphony No 9 with LSO Principal Guest Conductor Michael Tilson Thomas, a stellar line-up of soloists and the London Symphony Chorus.
SCHUMANN Piano Concerto
BEETHOVEN Symphony No 9 ('Choral')
Michael Tilson Thomas conductor
Leif Ove Andsnes piano
Lucy Crowe soprano
Christine Rice mezzo-soprano
Toby Spence tenor
Iain Paterson baritone
London Symphony Chorus
Simon Halsey chorus director
Fri 10 Jun 7.30pm, Barbican
Leif Ove Andsnes concludes his series with an intimate solo recital of works by Sibelius, Beethoven, Debussy and Chopin.
SIBELIUS Three Pieces ('Kyllikki'); The Birch; The Spruce; The Forest Lake; Song in the Forest; Spring Vision
BEETHOVEN Piano Sonata No 18 ('The Hunt')
DEBUSSY La soirée dans Grenade from 'Estampes'; Three Études: 'Pour les degrés chromatiques' – 'Pour les arpèges composés' – 'Pour les octaves'
CHOPIN Impromptu in A-flat major; Étude in A flat Major from Trois nouvelles études; Nocturne in F major; Ballad No 4 in F minor